Toll Pass Motorcycle Holder
HB-EZ-01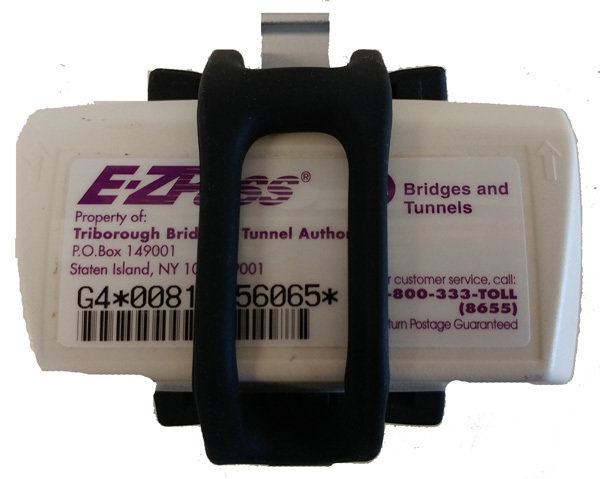 BACK IN STOCK NOW!
The Universal Motorcycle Toll-Pass Mount allows you to securely attach your toll pass to handlebars for easy scanning and use while on the go. This versatile motorcycle toll pass holder is compatible with motorcycle handlebars, risers, crash-bars, sissy-bars- plus it includes a bottle opener !
The toll pass holder is made from an incredibly strong elastic material which will not break or wear out. It will securely hold your toll pass to your bike. Easy to connect or remove, the mount will last for years.
Works with small form factor EZ-Pass, Sun-Pass, I-Pass, Quick-Pass, etc.
Product Information
Made from lightweight expandable silicone with an aluminum base at its core, the single band securely wraps around nearly any sized motorcycle bar. The split-strap design holds toll passes securely.
It can be positioned wherever you want, attached and removed as often as you need, and is designed to allow full functionality of your toll pass while it's in place. The flexible nature of silicone gives the device the capability to secure and wrap other objects, too (like flashlights) for added functionality.
Simple, versatile, and with a streamlined design, the Toll Pass Holder is perfect on even the longest rides.
Bonus: it functions as a bottle opener, too!
Product Details
Black color.
Universal design fits nearly every small form factor plastic passes.
Conveniently accessible to attach and remove toll pass without having to remove the device from the bar
Easily attaches to most common motorcycle bar diameters in either horizontal or perpendicular configuration
Simple, robust design holds your device securely, even during off-road riding
Aluminum base piece functions as a convenient bottle opener
If theft prevention of the holder is a concern, the unique base piece is designed so that it can be secured to your handlebar with zip ties or cable ties
Lightweight & durable
Fits most bar diameters
Model:EZ-01
Condition:NEW
Style:UNIVERSAL MOUNT

TO PURCHASE GIFT CERTIFICATES CLICK HERE